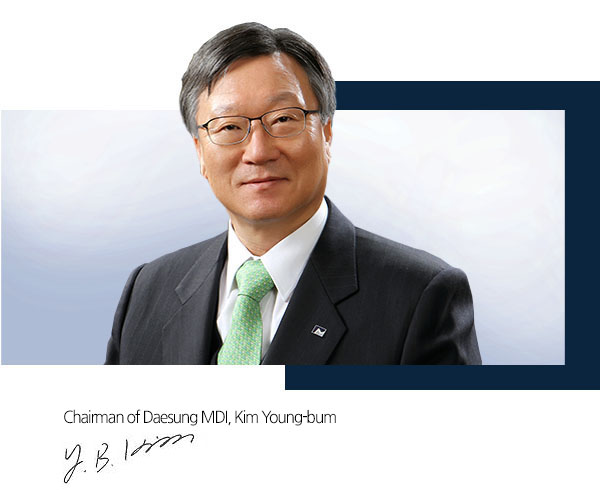 We commit to becoming a trusted company by achieving customer satisfaction and ethical business management.
Daesung MDI was founded in the 1960s when the South Korean economy was making major progress. Over the past 50 years, our company has been working diligently in the resource development sector with passion and an ambition for development, contributing greatly to the foundation of the key national industries.
With continued developments in technology and innovation in business management, we have always been fully committed to the production of excellent products and customer services. Based on the pride of leading the resource development sector in Korea, we have not neglected to create high-value-added products and product research as well.
From early on, Daesung MDI has opened their eyes regarding the effects that indiscreet development can bring to the environment.
We have actively invested ourselves in the development of environmental friendly manufacturing methods and have established strict internal environmental standards, doing our best to find a harmonious balance between human life and natural environments. Above all, we are tirelessly working to become a company trusted by the public by achieving customer satisfaction and transparent business management.
Silently walking on the same path based on upright beliefs, Daesung MDI is opening the path leading into the future.
Remembering the management philosophy of progressive and creative spirit, we will enhance the core capabilities of the company by establishing a 21st century information management system. We will also develop new business areas with high added-value in order to become a company that contributes to society through sustainable growth.